Series C-01 & C-02: Horizontal PC Transformer
250
0-volt RMS Hipot, available in a variety of sizes. Insulation Class 130C. Available with either single 115V, or dual 115/230V primary. Mci's pin configuration is designed for ease of connection in printed circuit boards. Heavier transformers are provided with mounting holes for additional mounting security. Adaptations of standard transformers are also available. Dots on schematics shown below indicate like polarity.


Selecting a transformer for a new design
Dimensions: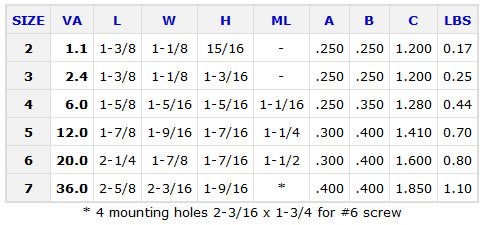 Current Ratings (AMPS RMS):


Part Number Designation:

1. Locate the column, in the table above, for the required voltage.
2. In the voltage column, locate the required current reading.
3. Moving left from the current reading, find then number indicating required primary - single
115V primary or duatl 155V/230V.
4. Derive part number by combining digits indentifying required primary and digits at the top of
column giving required voltage.